Get Paid Ahead of Schedule with
The Early Deposit feature is designed to give you access to your hard-earned funds a day ahead of the traditional banking schedule, so you can experience banking that truly puts you first.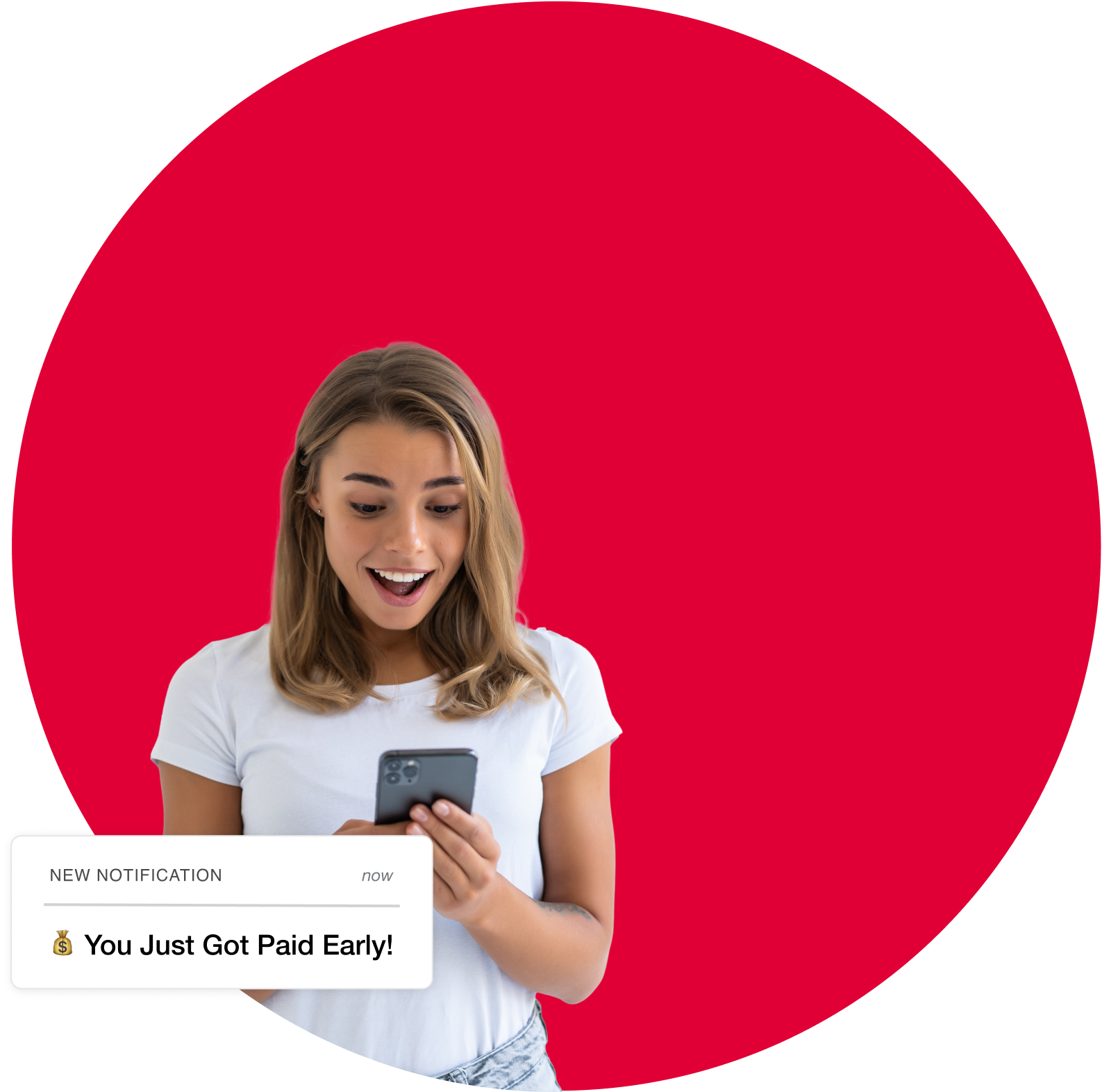 Experience

Early Deposits

in 3 Easy Steps
Open an account if you don't already have one. This account will serve as the destination for your direct deposits.
Provide your employer with your RCB account details so they can route your payments directly into your account.
Once RCB receives notice of funds from a payor, those customers have access to their funds a day earlier.
*Based on fund availability from third-party. Subject to terms and conditions.
Already Have One?
If you already have an account at RCB, login to access your account and routing numbers to set up direct deposit with your employer.
ACCESS ACCOUNT INFORMATION
FREQUENTLY ASKED QUESTIONS
If a portion of your direct deposit is allocated to your checking account and you receive your money early, it will also show up early in your savings or money market account.
You have the option to set up a customized deposit alert to be notified when your paycheck hits your account. Here's how you can do it:
Log in to your Online Banking or RCB Mobile App.

Click on your name and select Settings.

Choose Manage My Alerts.

Click on My Alerts.

Add "Large Electronic Deposit Posted".

Select the account and enter the expected amount.

Choose your preferred notification method, such as email or SMS text.
There could be several reasons why your direct deposit isn't arriving early. Some possible reasons include:
You recently set up direct deposit, and we haven't received your payment details on time.

Your deposit type isn't eligible for early processing, such as transfers between bank accounts.
If you change jobs, you'll need to set up direct deposit through your new payroll provider. However, you'll still remain qualified for early direct deposit.
No, there is no limit to the number of early direct deposits you can receive. If you don't receive your deposit early, you can expect it to arrive on your regularly-scheduled payday.
To enroll in direct deposit, you need to go through your paycheck or government payment provider. Here's what you'll need:
Our routing number: 211372404

Your account number, which can be found in Online Banking or RCB Mobile App.

Follow these steps:

Click on Accounts.

Select Details.

Click on Show Full Account Number.
No, early direct deposit is included at no additional cost with your account. There are no additional charges associated with this feature.
Early direct deposit allows you to access your paycheck one day before your regular payday. It is included at no additional cost and is an automatic feature provided by our bank. By receiving your paycheck early, you can manage expenses, pay bills, or even earn interest on your money sooner. The availability of your paycheck will depend on when we receive the payment from your employer.
No, early direct deposit is an automatic feature available to all RCB customers. In most cases, you will receive your paycheck early if:
You receive recurring payments through an employer, business, or government program that uses direct deposit (and you're enrolled in direct deposit as well).

Your payroll provider consistently sends us your payment details on time.
No, early direct deposit is included at no additional cost and is an automatic feature. As long as you're eligible for early direct deposit, you will continue to receive your payment early without any actions required from your end.
Banking that speaks your language.
At Reading Cooperative Bank, everyone is welcomed, valued, and understood. We have extended branch hours to accommodate your busy schedules and also take pride in our bilingual workforce, ensuring effective communication with customers.